Artwork by Norbert Nagel
Our dogs
The dogs on this page have often come to us through unpleasant circumstances and have usually had a bad start or a difficult past. However, the beauty of dogs is that they live in the moment and adapt to current circumstances despite any previous suffering, poor behaviour or lack of input! Do not feel sorry for any of the dogs under any circumstances, they are the lucky ones...
All dogs featured here have been fully assessed, neutered, micro-chipped, vaccinated and treated for both internal and external parasites. They are assessed at length and all dogs will undergo any behaviour modification necessary and then wait until their perfectly matched home finds them. The service we provide is one of matching compatible dogs and families, sometimes on behalf of other rescues, so if you don't see your perfect dog here I may be able to assist you in selecting a suitable dog from another rescue. The organisations that I work with are featured on the links page so please have a look at their dogs to see if your ideal new family member is with them. All dogs through Langlands' Rescue have full rescue and behaviour back up for life and we love you to keep in touch :)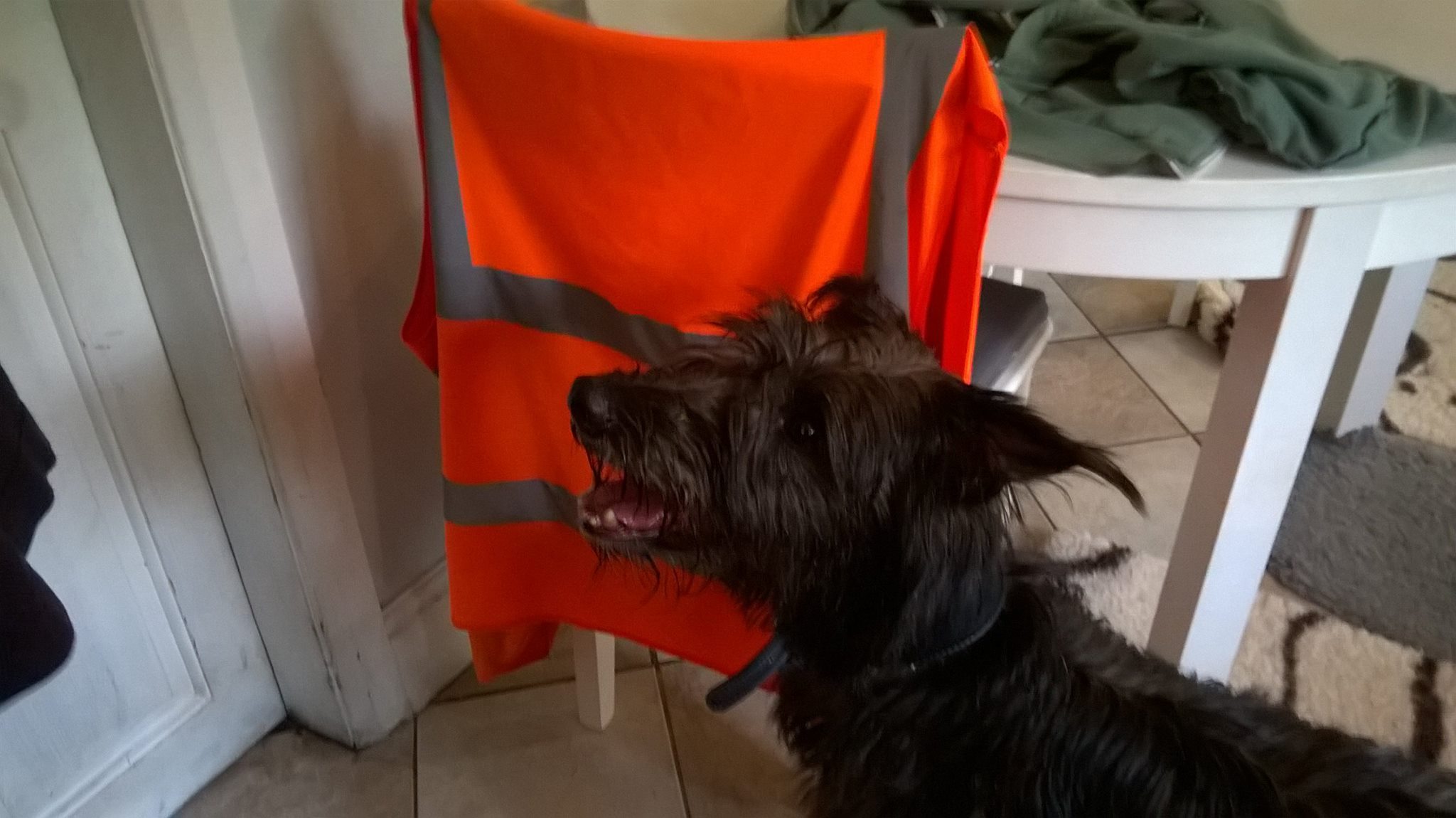 Meet Morag, Morag is a sweet, sensitive 7 year old Deerhound cross-breed. She has had a difficult life thus far but is nearly ready to find her perfect home. She travels well, walks brilliantly on a lead, has super recall and is very well mannered in all situations. She doesn't know many commands and is quite slow on the uptake so she requires kindness and patience in her new home. She has some residual anxiety about doors and doorways and although this has virtually disappeared now, it is likely to resurface in a new place. She is completely non-aggressive.
Another gentle confident dog would really help Mo to settle quickly and learn the ropes as she isn't secure being left completely alone and is a little uncomfortable in confined spaces. She is crate trained however and will happily sleep in her crate at night or spend short periods in there. She deserves to have company during the day and wouldn't be suited to being left alone for long periods. Morag is not yet cat tested but she shows no drive to chase or any indication that she has ever been 'worked' at all, she doesn't react excessively to anything and rarely barks. She requires a raw food diet due to some GI issues, this has been a serious problem in the past and she is now healthy and gaining weight quickly on raw food so this will need to be continued.
Are you Morag's perfect home? She is quiet and sensitive, not noisy or demanding of attention, needs an hour of exercise per day, and a well fenced garden as well as a patient person and another gentle dog to bond with. Now taking enquiries for this special girl. Available soon.
REHOMED
Are You Digger's Perfect Match?
Digger is our latest lodger here at the Balance Behaviour house. He is a lovely little 18 month old Parson's Russell Terrier that has come to us from a rescue kennel via a wonderful short term home.
Digger travels well, loves adventures, eats like a Great Dane despite his tiny dimensions and loves to run (and run and run). He is up to date with vaccinations and parasite treatments as well as having a microchip in place. Digger is neutered and healthy.
Digger hasn't yet learned to relax outdoors and he sees threats everywhere, this will take time, patience and repetition so lead walking is still a work in progress! He is crate trained and loves to snuggle into his crate at night but he doesn't cope well when left for too long during the day. We don't know much about his history but it is clear that he hasn't received the exposure to life the universe and everything that he needed in order to be confident and calm in every situation. It is also crystal clear that he has been treated like a human baby from a young age - this has left him insecure and uncertain, too dependent on the humans around him, and without a good idea of what it is to be a dog. Patience, confidence boosting and trust building is paramount for this beautiful little man, along with firm fair consistent leadership and lots of exercise - he really needs clear unambiguous boundaries to be described so that he can understand his role in the home and relax into it. Digger could live with or without other dogs but it would be a real bonus if he could be introduced properly to other calm balanced dogs - this would allow him to learn through observation and be guided into good habits. Digger is not good with cats or small furries.
Are you Digger's perfect match? Active and intelligent this young boy is no couch potato by any stretch of the imagination, he is also a lot of fun! He is a large dog in a tiny body, sweet and friendly to all people he comes into contact with but does have issues surrounding boundaries to excitement so this is a consideration - he is not lapdog material nor suited to a sedate lifestyle. Where other dogs are concerned Digger is currently happily living with six dogs of all shapes and sizes and they all get on well with him. However he reacts with alarm when he spots a dog whilst out walking, and although this is improving Digger will need on-going work in his new home. For this reason Digger will leave us with a plan of behaviour modification to follow and this will require time, patience and lots of input from his new home. Digger's new home will have access to support for life. Please ring for more details on our Digger, he is a very special boy and deserves a super home. Home-check and adoption fee apply and full back up and help integrating Digger into the home is available.
Gabriel is our special Christmas angel. Taken in by us over Christmas in 2014 via Helping Yorkshire Poundies this boy is a pleasure and a joy. He is a large blue eyed, wolf grey Siberian Husky x Malamute and any applicants should research both breeds in depth before enquiring as he has characteristics of both breeds. After a poor start he is now 18 months old and has learned the manners and skills needed to make a lovely addition to a family. Gabe walks well on a lead, travels very well in the car and is crate trained and clean in the house with super manners around food. He is eager to please, very intelligent and when he understands what is wanted of him he complies no questions asked. Gabriel is fabulous with children of all ages but needs some rules and boundaries describing clearly. This dog is an intelligent opportunist - if the new family doesn't put in the work in the initial weeks then Gabe will make his own structure (which may involve digging up the garden, stealing from the bin and generally entertaining himself) as he needs this on a fundamental level. He is definitely an on-lead dog as although his recall is good his 'Husky side' is very apparent and the sheer joy of running far and fast overwhelms other considerations at times, this coupled with a keen prey drive makes him more suited to running, walking, jogging and hiking on lead with his new owners, he would love to accompany his owner on bike rides or work in harness occasionally. If his exercise requirements are met consistently he is very relaxed in the house. Gabe needs (at a minimum) two walks of an hour a day with an opportunity to run and socialise - either in a safe enclosed area or on a lunge line. He responds well to both reward and calm discipline when describing rules and he needs this to continue as he matures. Gabriel would be happiest living with other dogs, male or female, so that he can continue to socialise despite his on-lead status. This dog definitely can't live with any other small furry animals! Sled dogs are truly magnificent dogs but they do require a bit more maintenance and upkeep than some are prepared for and return to rescue rates are high due to this, Gabriel needs a home forever that is prepared to commit to him and meet his exercise and training needs so please research properly before considering him. Full back up and assistance with integrating into an existing pack is provided for this lovely boy and an adoption fee payable to Helping Yorkshire Poundies, as well as a home visit applies.